The month of May is almost here, a month which the piety of the faithful has long dedicated to Mary, the Mother of God. Our heart rejoices at the thought of the moving tribute of faith and love which will soon be paid to the Queen of Heaven in every corner of the earth. For this is the month during which Christians, in their churches and their homes, offer the Virgin Mother more fervent and loving acts of homage and veneration; and it is the month in which a greater abundance of God's merciful gifts comes down to us from our Mother's throne.
We are delighted and consoled by this pious custom associated with the month of May, which pays honor to the Blessed Virgin and brings such rich benefits to the Christian people. Since Mary is rightly to be regarded as the way by which we are led to Christ, the person who encounters Mary cannot help but encounter Christ likewise. For what other reason do we continually turn to Mary except to seek the Christ in her arms, to seek our Savior in her, through her, and with her? To Him men are to turn amid the anxieties and perils of this world, urged on by duty and driven by the compelling needs of their heart, to find a haven of salvation, a transcendent fountain of life.
I find the May devotion very beautiful – May is the month when summer begins in the Northern Hemisphere, it's the beginning of summer holidays here, it is the month of flowers and it is the month of Mothers' Day.
There is something sweet and noble in Marian devotion itself – C.S. Lewis puts it across beautifully:
"The Roman Catholic beliefs on [the Blessed Virgin Mary] are held not only with the ordinary fervour that attaches to all sincere religious belief, but (very naturally) with the peculiar and, as it were, chivalrous sensibility that a man feels when the honour of his mother or his beloved is at stake."
To a Catholic, refusing to honour Mary not only appears heretical, but also displays a lack of decency. So Marian devotion in Catholic culture is something much more than a theory – it comes right from the heart.
You get a sense of this from the hymns that we have – they are so full of love: simple and heartfelt. And that's how our own relationship with Mary should be. She's our "Mother and a friend" as one hymn puts it. And I think that when we begin to really see Mary as a Mother, such devotion would also permeate the rest of our spiritual life – we will develop more and more that child-like trust in the Father, that personal relationship with our Lord and we will seek the constant companionship of the Holy Spirit.
St. Josemaria Escriva talks about May devotions thus:
How does a normal son or daughter treat his mother? In different ways, of course, but always affectionately and confidently, never coldly. In an intimate way, through small, commonplace customs. And a mother feels hurt if we omit them: a kiss or an embrace when leaving or coming home, a little extra attention, a few warm words.

In our relationship with our mother in heaven, we should act in very much the same way. Many Christians have the custom of wearing the scapular; or they have acquired the habit of greeting those pictures — a glance is enough — which are found in every Christian home and in many public places; or they recall the central events in Christ's life by saying the rosary, never getting tired of repeating its words, just like people in love; or they mark out a day of the week for her — Saturday, which is today — doing some special little thing for her and thinking particularly about her motherhood.
Christ is Passing By, 142
Mary adds a beautiful touch of sweetness to our Christian lives. Amidst the troubles, the bad news, the scandals, the wars, the suffering, she brings a breath of fresh air (while not allowing us to forget those who are suffering). Pope Benedict in his address on the Feast of the Immaculate Conception (2009) said:
"Every day, in the newspapers, television and radio, evil is told to us, said again, amplified, so that we get used to the most horrible things, and become desensitised. In a certain way, it poisons us, because the negative is never fully cleansed out of our system but accumulates day after day. The heart hardens and thoughts become gloomy. For this reason, the city needs Mary, whose presence speaks of God, reminds us of Grace's victory over sin and makes us hope even in the humanly most difficult situations."
Mary thus provides this world with an injection of beauty, sweetness, gentleness, love, hope and grace.
The Holy Father continues:
"We often complain about air pollution, that in some parts of the city the air is unbreathable. That is true. Everyone must do his or her part to make the city a cleaner place. However, there is another kind of pollution, which the senses cannot easily perceive, but which is equally dangerous. It is the pollution of the spirit, which makes us smile less, makes us gloomier, less likely to greet one another or look into each other face... The city has many faces, but sadly, collective factors lead us to forget what is behind them. All we see is the surface. People become bodies, and these bodies lose their soul, become faceless objects that can be exchanged and consumed.
Mary Immaculate helps us rediscover and defend what is inside people, because in her there is perfect transparency of soul and body. She is purity in person in the sense that the spirit, soul and body are fully coherent in her and with God's will. Our Lady teaches us to open up to God's action and to look at others as he does, starting with the heart, to look upon them with mercy, love, infinite tenderness, especially those who are lonely, scorned or exploited. "[W]here sins increased, grace overflows all the more."
I think you can tell by the elegance with which he writes that the Holy Father has a deep love and devotion to the Blessed Mother.
So the month of Mary is an opportunity to learn from Her and try to serve others better. Carry out an apostolate of Marian sweetness – help other feel happier, more loved; help others carry their crosses. This apostolate can – and should – also extend beyond those around us – pray fervently for those around the world who are suffering either physically and mentally; pray that our Mother's gentle care would ease their difficulties. Pope Paul in the encyclical I mentioned earlier says
"
May she who experienced the cares and hardships of earthly life, the weariness of daily toil, the hardships and trials of poverty, and the sorrows of Calvary, come to aid the needs of the Church and the human race. May she graciously lend an ear to the devout pleas of those all over the world who beg her for peace."
Let us try to be Mary's instruments for this peace.
Holidays are a time when we must be extra watchful not to let out prayer lives falter and suffer because of a change in routine. I think the May devotion would help here too. We could decide on something to offer Mother Mary this month – something concrete – and stick to this. This will add zeal to the rest of our prayer life too.
We could offer some extra prayers to Mother Mary every day; we could pray the Regina Coeli with greater devotion these last couple of weeks of Easter Season; we could plan to go on a small pilgrimage to a Marian church; we could do some works of mercy – and offer it to Mary, and do it in Her spirit; we could read up more about Her; we could pick some of Her qualities and try to emulate them as best we can.
For example, the Handbook says – and we are all very familiar with this –
"The spirit of the Legion of Mary is that of Mary herself. Especially does the Legion aspire after her profound humility, her perfect obedience, her angelical sweetness, her continual prayer, her universal mortification, her altogether spotless purity, her heroic patience, her heavenly wisdom, her self-sacrificing courageous love of God, and above all her faith, that virtue which has in her alone been found in its utmost extent and never equalled."
One day we could practice humility: we could pray about this virtue, and we could try to live it during the day, seeking out opportunities to put it into action; another day we could practice sweetness; yet another day could be dedicated to offering something extra by way of prayer.
This would be wonderful training for us as Legionaries, as apostles, and could do wonders for our spiritual life. The Second Vatican Council says
"Perfect model of this apostolic spiritual life is the Blessed Virgin Mary, Queen of Apostles. While on earth her life was like that of any other, filled with labours and the cares of the home; always, however, she remained intimately united to her Son and cooperated in an entirely unique way in the Saviour's work . . . Everyone should have a genuine devotion to her and entrust his life to her motherly care." (Apostolicam Actuositatem 4)
The month of May should also be a time to carry out an apostolate of Mary – spread her devotion to as many people as possible, make her loved by more of her children. Let's make an effort to give out more Miraculous Medals. We also should be trying to bring more visitors to our meetings – not just because we want members but because of what Mary, and service in an organization of Mary's, can do for our friends.
Let us end with a prayer to our dear Mother, written by Pope Benedict:
Holy Mary, Mother of God,
you have given the world its true light,
Jesus, your Son – the Son of God.
You abandoned yourself completely
to God's call
and thus became a wellspring
of the goodness which flows forth from him.
Show us Jesus. Lead us to him.
Teach us to know and love him,
so that we too can become
capable of true love
and be fountains of living water
in the midst of a thirsting world.
Amen.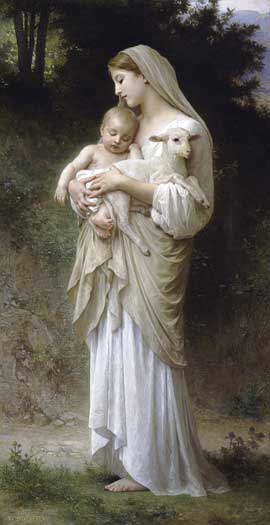 L'Innocence
by William-Adolphe Bouguereau